Lady Margaret Hall is available for meetings, conferences, seminars and functions. The College has been open to new ideas since it was founded in 1878 to admit the first female students to the University of Oxford. Our fresh approach, distinctive buildings and spacious, natural landscape make Lady Margaret Hall the perfect setting for memorable events that engage and inspire your guests. We can provide dining for small groups or up to 250 people in our splendid wood-paneled dining hall. Outside term time we can host residential conferences for up to 180 guests in en-suite rooms.
Simpkins Lee Theatre
Built in 2010, the elegantly designed Simpkins Lee Theatre offers a distinctive background for conferences, lectures and keynote speakers. The theatre can accommodate 150 theatre style and comes with a fully equipped technical booth and sound deck. Adjoining the theatre is a function room (the Monson Room) which is available for refreshments.
Theatre: 150
Monson Room
The Monson Room is a large welcoming and spacious function room benefiting from natural daylight. The room opens out onto the lawn of the Lannon Quad making it a perfect conference space. The room can be used in conjunction with the Simpkins Lee Theatre providing a breakout space for refreshments and networking lunches.
The Monson Room comes equipped with its own kitchen, so our Chefs and catering team can provide a private, fine dining experience for up to 72 guests.
Theatre: 72
Boadroom Layout: 72
Classroom Layout: 36
U-shape Layout: 27
Cabaret Style: 60
Banqueting Layout: 72
Reception Layout: 150
Dinner-Dance Layout: 30
Deneke Dining Hall
The Dining Hall at LMH is an impressive setting for any occasion. The high, beamed ceiling, ranks of arched windows, wooden paneling and portraits from past eras, all evoke the continuity and tradition of Oxford University. Once the tables are set for a banquet and the candles lit, food from our delicious fine dining menus is all that is needed to complete a memorable evening.
The Dining Hall is well suited for large-scale catering functions and can accommodate up to 250 guests. The room is also perfect for dinner-dances whereby live music can be set up on the stage area.
Banqueting Layout: 250
Dinner-Dance Layout: 150
Talbot Hall
The impressive Talbot Building stands at the far end of Wolfson Quad, and the main doors from the Quad open onto the reception space for Talbot Hall. Built as the College dining Hall in 1910, Talbot Hall is a large wood-panelled room and a truly grand space. Long windows line one wall, and the room is hung with portraits of College Fellows and alumni.
Talbot Hall is an impressive backdrop for any function or meeting. The room is particularly well suited for day conferences, seminars and evening drink receptions.
Theatre: 90
Boadroom Layout: 36
Classroom Layout: 60
U-shape Layout: 34
Cabaret Style: 48
Reception Layout: 120
The Old Library
This lovely room is lined with classical pillars supporting a finely arched ceiling. Huge sash windows provide a view of the College gardens, where flower beds are, bordered by a leafy vista of trees including a magnificent copper beech. The elegant styling and grand size of the Old Library make it a dramatic and memorable backdrop for large meetings and special occasions.
Theatre: 48
Boadroom Layout: 26
Cabaret Style: 24
Reception Lay0ut: 120
Jerwood Room
This light-filled room has a warm, honey-toned wooden floor and walls adorned with contemporary art from the College's collection. It is an ideal space for relaxed and friendly dining, and can also be used as a meeting or break-out room.
The room is located next door to the Deneke Dining Hall and near to The Committee Room.
Boadroom Layout: 40
Banqueting Layout: 40
Mary O'Brien Room
Attractive bay windows overlooking a central part of College, and generous proportions, make the Mary O'Brien Room ideal for seminars and workshops. The room can comfortably accommodate 24 delegates in a boardroom or U-shape, with plenty of space for informal conversations during coffee breaks.
The room is located near to key function rooms, Talbot Hall and The Old Library and can be a useful conference breakout space.
Theatre: 30
Boadroom Layout: 24
Classroom Layout: 24
Cabaret Style: 24
Reception Layout: 60
Talbot Seminar Room 1
Warm, yellow walls and a sunny aspect overlooking the gardens, make Talbot Seminar Room 1 a very pleasant meeting and teaching room. With an original fireplace and mix of wooden furniture, the room has a relaxed and homely feel, perfect for encouraging open and creative sessions.
Talbot Seminar Room 1 is located to the right of the Talbot Hall with Talbot Seminar Room 2 on the left of the hall.
Boadroom Layout: 12
Talbot Seminar Room 2
Lined with books and with windows which open to the fresh air and a view of the gardens, Talbot Seminar Room 2 makes an ideal thinking space, perfect for working meetings. Generations of students have been taught here, and it is still regularly used for tutorials during the University term time.
Talbot Seminar Room 2 is located to the left of Talbot Hall with the Talbot Seminar Room 1 on the right of the hall.
Boadroom Layout: 18
Olga Pocock Room 
The Olga Pocock Room consists of three inter-linked rooms which together make a relaxed and informal space. Situated in the Pipe Partridge building where the Simpkins Lee Theatre and Monson Room are located, it can make a useful additional space for residential conferences, either as a lounge area for delegates or as a break-out room.
Theatre Style: 24
Boadroom Layout: 18
Reception Layout: 50
Committee Room 
The Committee Room is where the Officers and Fellows of Lady Margaret Hall meet to conduct most of their meetings. Tall sash windows give a view of the Fellows' Lawn, with its backdrop of copper beech and mature trees. This is a warmly atmospheric room, redolent of Oxford tradition but small enough to have an inviting and intimate feel. It is perfect for private dining and for meetings which require a special setting.
Boadroom Layout: 18
Banqueting Layout: 18
Reception Layout: 25
Amanda Forman Room 
Situated near to the front of College, the Amanda Foreman Room has the calm, classical styling which typifies the rooms of the Pipe Partridge building. It is an excellent meeting room, and works well as a breakout or admin space for functions taking place in the nearby Monson Room or Simpkins Lee theatre. Tall French windows opening onto one of the main routes into College make the Amanda Foreman Room an ideal registration room for large Conferences.
Boadroom Layout: 12
Classroom Layout: 12
Lodge Seminar 
Decorated in soft greens, and with French doors which open directly to the gardens, Lodge Seminar has a spacious feel and a calm atmosphere. This is a room from which delegates can step outside and stretch their legs during breaks, and from where afternoon tea can be served on the lawns.
Boadroom Layout: 16
Cellar Bar
The Cellar Bar is a comfortable student bar with colourful, slouchy chairs and painted oars hanging on the wall to mark the successes of the College rowing teams. It opens out onto a grassy terrace with seating, parasols and patio heaters, where guests can sip their drinks and enjoy the surrounding gardens. The Bar is available to book outside University term-time.
Reception Layout: 120
Paul Oster Room
An elegant room with tall French windows opening onto a terrace with a view down the length of the LMH gardens makes for a peaceful meeting and event space. The Paul Oster Room is located in the Colleges newly built Clore Graduate centre which was completed in September 2016.
The room is close to the entrance of the College and near to the Monson Room and Simpkins Lee Theatre.
Theatre Style: 40
Boadroom Layout: 20
Cabaret Style: 24
Reception Layout: 60
---
Location
---
Enhance your Event
Bicester Village
Discover a shopping haven in the beautiful Oxfordshire countryside, where spacious boutiques showcase the world's leading fashion and lifestyle brands.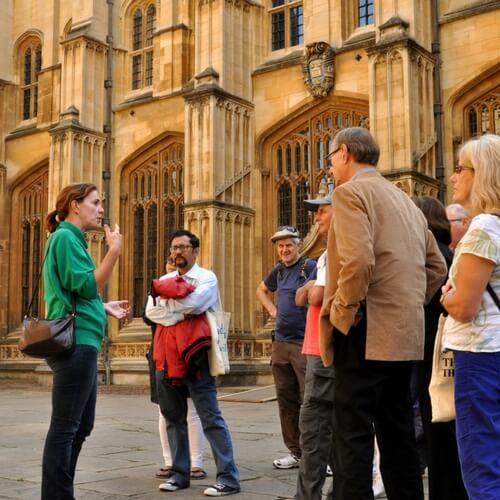 Oxford Official Walking Tours
An Oxford Official Walking Tour is the best way to explore Oxford's history.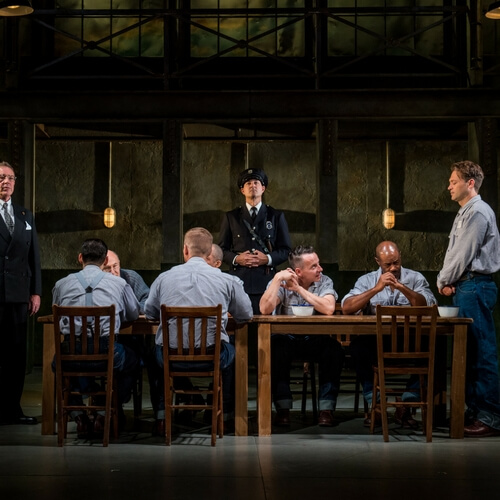 New Theatre Oxford
The New Theatre's Ambassador Lounge packages can accommodate events.
Olivia May
Olivia May is the perfect place to shop for any occasion.